Last week we celebrated the anniversary of the opening of Disneyland's Pirates of the Caribbean. In my post, The Pirates Paradox, I offered my opinion on the enduring popularity of an attraction that, technically, pales in comparison to some of the more recent Imagineering efforts like Mission Space or Soarin'. And certainly, doesn't offer the thrills of attractions like Rock 'n Roller Coaster, Space Mountain or Expedition Everest.
There have been many changes to the U.S. Disney theme parks over the years. Many of my posts have discussed change.  I'll have more to say about that later.
Spoiler alert. For those who want to be surprised by the changes to the Pirates attraction, please Page down at least two times.
For those who have not heard or seen, the change to the Pirates attraction involves the scene where the pirates are bidding on captured women. They shout, "We wants the redhead." For reasons which, as usual, Disney will not comment, they've have modified the auction scene so instead of women being auctioned, our old friend, the redhead who's encouraging her fellow pirates to buy chickens, rum, paintings, etc. It's not the first time that the Imagineers have tinkered with Pirates. Earlier they turned the chase vignette around by having a woman with a broom chasing a pirate around, instead of him chasing her.  Then we had the more recent "plussing" with the additions of the Pirates movie characters. I don't recall to many reactions to the first change and there was definitely some to the second.
If you skipped down, thanks for sticking around. Now where was I? Oh, yes, change.
There's seems to be a very mixed reaction to changes to the Auction scene of Pirates of the Caribbean at the two U.S. theme parks.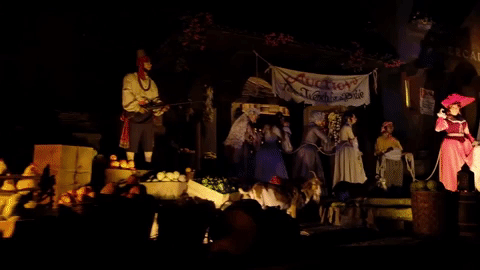 As a technologist, I have worked on projects or helped others plan for and realize
changes in their critical business systems and applications. Most of us have gone through changes in our lives, jobs, neighborhoods, even the stores where we shop. I think it would be fair to say that no change is easy. It often involves planning, hard choices, compromise, sometimes, and significant extra work. In some cases, it's my experience, that last one that often sinks the effort.
For the most part, I think the Disney Company and the Imagineers have been capable and talented stewards of Walt's theme park legacy. They have tried, and I think, succeeded, in maintaining the primary reason Walt had for building Disneyland – Create a clean environment where children and their parents could enjoy themselves, together. We've seen the addition of thrill rides like Tower of Terror for older "kids" at the same time Disney has expanded and enhanced Fantasylands for the younger set. Imagineers have also continued to offer seated or theatrical options like the Legend of the Lion King, Fantasmic and Finding Nemo the Musical for guests who need a rest or change of pace. At each of the Parks, there's something for everyone. Even if all you want to do is sit on bench and enjoy people watching. The change to Pirates highlights three different points of view when Disney changes a popular theme park attraction.
The first group probably includes visitors who have tired of an attraction and are ready for a change. Perhaps they never liked the attraction in the first place or they feel they've outgrown it or their just ready for something new. It may be that they have so many favorites that they don't miss one missing or having been changed. As someone who doesn't like change, but eventually embraces it, I think this group gets a bad rap. They are often portrayed as being disloyal or not really loving Disney, because they are looking for something new.
The second group doesn't want see a hair changed on the head of a single doll in Small
World. They want to come and enjoy the same attractions and shows time and time again. They like things just the way they are. These are the people who might be perfectly happy with the Matterhorn as the only thrill ride in Disneyland or Mr. Toad instead of the Seven Dwarfs Mine Train. Or maybe they would like to sit through Mission to Mars or have parents and kids wait in the blazing Florida sun for a few spots on Dumbo.
The third group, probably overlaps the first two groups. This includes people who want their friends, children, grandchildren, nieces or nephews to experience the same things they enjoyed. I would have been disappointed not to see my kids eyes and smiles if they never had a chance to ride Small World or Alice in Wonderland. This group doesn't mind change. So long as it doesn't involve their favorite attractions. Do away with A Bug's Land, just don't touch Stitch's Great Escape. Of course, it means that any change Disney makes is going to distress of anger a significant portion of their customers.
I think I fall into all three groups. I definitely don't want to see the parks become irrelevant museums. Look, but don't touch.
However,. . .
There's nothing wrong with keeping some of the past. I would be very unhappy if they had just done away with Pirates or changed Small World into a 3D experience. But, can you blame Disney's Imagineers? It would be like telling a Boeing engineer he couldn't use the latest lightweight metals in the new design. In the face of the significant competition in theme park industry, I think the Imagineers have shown great restraint. But, audience tastes in entertainment change. And technology offers options that were not available ten years ago or in some cases yesterday.
I'm sure many of you, myself included, would love to have taken a ride on The Stagecoach that took guests along the shores of Disneyland's River of America from
opening day until 1959. But, how many of you would be willing to wait for hours in the sun to get on a ride that could only accommodate a small number of guests, took a long time to load and broke down (yes, believe it or not, the horses did not always cooperate). I hear people complaining about waiting in air conditioned comfort twenty minutes get on an attraction.
I am not an advocate of change for the sake of change. It's usually expensive and the danger of not pleasing everyone can make the risks high, particularly for Disney who wants to maintain their preeminence in the theme park industry. My earlier comment about work often being the roadblock, has not seemed to have deterred Disney from doing big things like redoing Fantasyland or building Galaxy's Edge or Toy Story Land. Nor have they shied away from changes that are consequential among their fan base. (See Journey into Imagination, again).I'm sure there's some in Group two who would still trade to have Mr. Toad back in exchange for some of the new goodies that Disney has given us.
I would admit that not all the changes have been to my liking (See redo of Journey into Imagination, The ExtraTERRORestrial Alien Encounter and Stitch's Great Escape). And, I
would be very unhappy if I couldn't enjoy The Carousel of Progress or watch people laughing on the Tea Cups (not one of my favorites). Along with my long time and sentimental favorites, it's wonderful to have something new to be excited about trying for the first time. If Disney doesn't come up with new things for people to come to the theme parks for the first time or come back for again, then they will surely go to other parks.
As I've said in earlier posts, Walt was constantly tinkering with Disneyland. When he passed away, he still had a lot more plans in Anaheim and an unlimited amount for
Florida. If he hadn't been driven to change things for the better, then there wouldn't have been the Lincoln Audioanimatronic and Pirates would have been a walk through wax museum. I haven't seen the new Pirates scene, so I hesitate to offer my opinion. On the one hand, some would say that Disney has continued to sanitize the attraction of anything that might offend anybody. On the other hand, with the events of the last year, the #MeeToo movement and the on-going struggle for women to be seen as equals in all aspects of life, it might be that the Imagineers recognized the need to let 'em run things.
I understand the deep regard that fans of Pirates have for the way the attraction was. Most change is messy and hard. Instead of being able to sit back and watch the scenery, when Imagineers change Disney park attractions, they make us look closer, explore our emotions and, in many cases, rediscover and enjoy attractions all over again. I think Walt would be pleased. Although, I'm sure he would have had some ideas of his own.